Mega Joker slot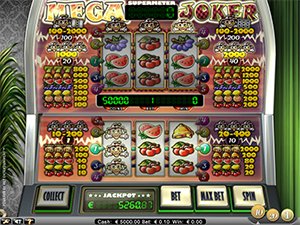 This super classic slot , has three different modes which you can play in – basic mode , supermeter mode and progressive mode. Basic mode is the usual classic slot game, three symbols in a line or the whole screen filled with one of a kind of symbols.
Supermeter mode is the same principle however wins are based on the supermeter which flashes on the left and right side of the supermeter at the top of the slot. Progressive mode is a computer generated random jackpot that progresses with the game. So three ways to win, what are you waiting for?
What Mega Joker has to offer:
Mega Joker is a classic slot with a difference. As with all classic slots, this online casino version is simple to use and fun for all players at various stages of their slot playing career. This is a 3 reel and 5 line game however you will get 2 of these games not just one! This online casino slot Mega Joker also offers a supermeter and a jackpot. What more could you ask for in a easy to play classic slot?
Basic Mode
Playing this game in basic mode, is your usual classic slot game. You choose the amount of coins you want to play with and the bet lines you want to play on. Then click the spin button and play on until you get to the supermeter or jackpot games. If you do not wish to proceed to the supermeter game after a win you can press the collect button to add your winnings to your bank.
Supermeter Mode
When you land on a winning combination in basic mode your winnings will then be transfered to the supermeter where you can play for more coins than in basic mode. Here you will find your chance to win bigger amounts of money. The pay outs in this mode are paid out according to the supermeter symbols pay outs. The maximum pay out here is 2000 coins. You can continue playing the supermeter until all of your credits are sued up otherwise you can click collect after any spin to return to basic mode and collect your coin wins.
Jackpot prize in Mega Joker
The classic slot Mega joker also has the jackpot feature which is a randomly drawn progressive jackpot. That means that the jackpot can be won at any time and the more you put into this game the higher the jackpot you win will be. Also the longer you play the higher the odds that you will be the jackpot winner. Good Luck.
All the Mega joker symbol pay out values can be found on the reel screen itself along with the jackpot prize amount and the supermeter pay outs.