SOW request from Casino (source of wealth)
Online casinos have to oblige to many different rules and regulations. Unfortunately the usual KYC procedure is no longer sufficient, and the new SOW check has been added (Source of Wealth) to many online casinos. As we test every single online casino website on OnlineCasino1.com we have requested more information about this new Due Diligence check. This check is now an obligation within Europe when casinos see there is increased activity or large activity on a player account.
It all started with the KYC requests
KYC stands for Know your Customer. This check is usually done by the Fraud department or payments team of an online casino once a withdrawal has been requested. The player needs to send over the following documents:
Passport / ID to confirm the players identity;
Proof of source of payment (think about a credit card statement on your name)
Proof of address (a bill not more than 3 months old)
Sometimes online casinos take it a step further with their KYC procedure by requesting a selfie of the player holding their ID or passport. A lot of players feel that this is an invasion of their privacy. This is a necessary evil as casinos do need to do their security checks. I would only comply with this procedure myself once I collected a large sum of money in my player account. Unfortunately casinos have to take it a step further now by requesting the source of wealth of players, the so called SOW is now a common way to check how the player made his/her money.

Recently added: SOW request
It started in the UK with new regulations from the Gaming Commission. They wanted a stricter way to check the financials of players to avoid money laundry and other financial related crimes. I have got my hands on a source of wealth request from Casumo, one of the bigger online casinos in the Europe and the UK: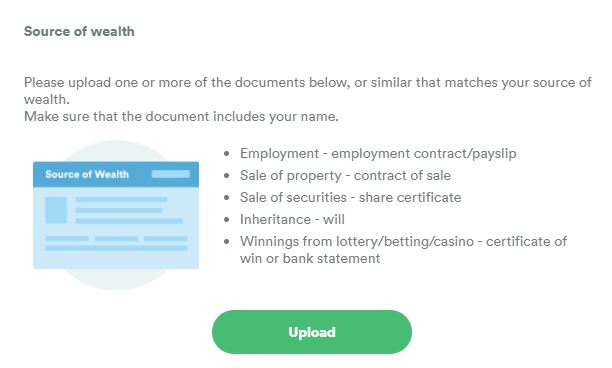 In case it's hard to read from the image above it states the following:
Please upload one or more of the documents below, or similar that matches your source of wealth. Make sure that the document includes your name.
Employment – employment contract/payslip
Sale of property – contract of sale
Sale of securities – share certificate
Inheritance – will
Winnings from lottery/betting/casino – certificate of win or bank statement
Other casinos also follow this direction by adding the SOW check. Below you can find another request from Fun Casino (L&L Europe Ltd) with the same request under a different name: Customer Due Dilligence:
Is every online casino website requesting SOW forms?
No, not every online casino requests this information from players. It fully depends on the licensing of the products and how strict this is applied to players. Officially this SOW check has to be done within Europe, so you should ask yourself if it's a good thing if the online casino does not ask you anything if you're playing wild.
When does a casino asks for Source of Wealth?
There can be 3 simple reasons: you've triggered a deposit threshold to request these documents, or your behaviour is suspicious enough to request such a document. For example, a selfie with the KYC procedure is hardly requested, only if there's a certain suspicion about the legitimacy of the player account holder. Another reason could be that you're residing in a country where these checks are obligatory like every single country in Europe.
Which casinos ask for these documents?
We have compiled a small list of casinos requesting these so called SOW / due diligence documents. Please note that rules and regulations change constantly in the online casino world so this is not a guarantee for being asked a document while playing in an online casino.
Casumo
L&L Europe Ltd (Free Spins Casino / Fun Casino / Nobonuscasino)
Betsson Casinos
Guts
Casimba
Rizk
Kaboo Casino
Bet365
Ladbrokes casino
CasinoRoom
PaddyPower
Play Ojo
SuperLenny
Videoslots
Also please note that this is a list compiled based on information received by players, we can not guarantee that the list above is correct and up to date. You can assume that you have most chance of receiving a SOW request if you're a UK resident playing with an online casino website licensed by the UK Gaming Commission. Also more MGA casino licensed casinos starting to request such information as they are officially obliged to do these checks for players residing in Europe.
Is your information in good hands?
When sending over personal information it's even more important to find a trustworthy online casino. You don't want your personal information to end up in the wrong hands. This applies to the Source of Wealth check, but also to the usual KYC procedure that online casinos follow to verify the customer's identity. Always make sure to cover any sensitive information on credit cards (CVC number) and to add a date and the beneficiaries name to each and every document supplied to online casinos to avoid abuse of your documents from their side.
Should you send the documents over?
Yes, in case you have a nice pending withdrawal I would definitely send over the documents to the online casino website. Okay it's not nice to Email such private information to anybody, but I rather have casinos following the rules of their licensee than an online casino that does not follow any of such strict terms applied to them.

Update: Just confirmed that Betsson asks this under the name Source of Income (SOI).
Update 2: Other gambling sites also use the name EDD (Enhanced due diligence) – all comes down to the same thing.
Update 3: Videoslots Ltd is also asking for SOW so added to the list above (see example of their request below).