Win big this NYE with a progressive Jackpot Slot
Christmas presents, celebratory dinners and preparations for New year's eve, for most people December is an expensive month. Wouldn't it be great to step into the new year with a fortune on your account? After all, there are only a few days left until we officially say goodbye to the year 2016. Therefore we've decided to list some of our favorite jackpot slots that will give you the opportunity to win big!
The jackpot slots that we will be discussing have proven to be favorite of many online gamblers. We'll list some information about each individual slot as well as a brief summary of past winners.
Mega Fortune Jackpot
Mega Fortune is a progressive jackpot slot that has a very rich vibe. Symbols include dollar stacks, several rings, expensive watches and limousines. The game has 5 reels, 3 rows and 25 bet lines. Players can adjust the coin value which varies between 0.01 (0.25 cents per spin on level 1) and 0.50 (12.50 per spin on level 1). The maximum bet per spin is 50 euro.
GamePlay
Free spins will be activated if you hit 3 or more scatter symbols. Hitting 2 or more Scatters in the free spins round will result in additional Free Spins or a multiplier. To win the jackpot you will have to enter the bonus game which is activated with 3 or more Bonus symbols.
The Bonus game features a bonus wheel with four layers, if you manage to make it to the center of the wheel you will win the Mega Jackpot. In each circle you can either win coins, or move on the next circle. In the second circle and third circle you can also win the two other smaller jackpots. In the second circle you can win the Rapid Jackpot, and in the third circle you can win the Major Jackpot.
Wins
On September 16th a lucky player from Sweden won the Mega Jackpot which reached €4,8 Million at that time. Earlier in the year, on the 15th of May it was hit for a total of €3.57 million. The win in September was the 5th time this year that the Mega Jackpot was hit. On average the Mega Fortune jackpot is hit once every 55 days, and saw it's biggest win on the 28th of November 2015 when a now multi-millionaire got very lucky and won €8,5 million.
Play Mega Fortune for real money!
Mega Moolah
Mega Moolah is a progressive jackpot created by MicroGaming. The game provider incorporated an African wildlife theme, including animal sounds. Just like Mega Fortune this slot also has 5 reels, 3 rows and 25 betlines. The offered coin sizes are 0.01, 0.02 and 0.05. The minimum bet is 0.01 x 1 per line x 1 line, and the maximum bet per spin is 0.05 x 5 coins x 25 lines.
Gameplay
Mega Moolah has four different jackpots available in the bonus game. There is the Mini Jackpot which starts at £10, the Minor Jackpot which starts at £100, the Major jackpot which starts at £10,000, and of course the Mega jackpot which starts at £1,000,000. If you hit 3 or more Bonus symbols in the base game the bonus game will be activated. You will then continue to the Mega Moolah wheel. The colored areas on the wheel represent the jackpots.
Besides the four jackpots in the Bonus game you can also win a 225,000 jackpot with free spins, and a 75,000 coin jackpot in the base game. The default currency of the slot is GBP.
Wins
Mega Moolah has had a fantastic year this year, with not one but TWO jackpot winners in November! It was Marcus Goodwin (a very appropriate last name) who won a life changing jackpot of $11.6 million on the 5th of November at YakoCasino. Only 11 days later the Mega Jackpot was hit once again, this time it reached an amount of £5,6 million.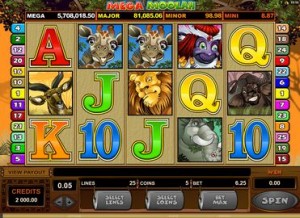 Arabian Nights
Arabian Nights is a simple progressive jackpot slot, also created by NetEntertainment. You might have already guessed it by the name, but the video slot has an Aladdin type theme. The slot has the usual 5 reels and 3 rows, and 10 bet lines. It has some recognizable symbols such as Jacks, Queens and Kings, but also has theme related symbols such as a saber sword and a camel.
Gameplay
Arabian Nights is a fairly simple video slot. Players who love classic styles will surely appreciate this progressive jackpot. Unlike the other two jackpot slots we discussed, Arabian Nights has one jackpot that can be won. The minimum bet is 1 coin on 1 bet line, and the maximum bet per spin is 1 coin on all 10 bet lines with a total of 10 coins.
During free spins ,all wins, except for Jackpot wins, are tripled. Unlike the previously discusses wheel of fortune style bonus games, the jackpot in this game can be won by hitting 5 Wild Symbols on one of the bet lines whilst playing on Max Bet.
Wins
The guarantee pay-out for Arabian Nights is 125,000 euros, whereas the average pay-out is 1,800,000 euros. Since it's launch the slot has had a winner on average every 10 weeks. In July the jackpot was hit twice in one day, making two players very happy with wins of €202,207 and €202,274. The most recent millionaire was made on Thursday the 16th of June this year, whilst in February the highest jackpot of this year so far was won with a total of €2,200,502.